A big part of what makes Mended Hearts stand out is our use of equine therapy. Many people do not understand what exactly it is or how we use it in our sessions.
Equestrian therapy (also known as equine therapy or Equine-Assisted Therapy [EAT]) is a form of therapy that makes use of horses to help promote emotional growth. Equestrian therapy is particularly applied to patients with ADD, anxiety, autism, dementia, delay in mental development, down syndrome and other genetic syndromes, depression, trauma and brain injuries, behavior and abuse issues and other mental health issues.

In many instances, riders with disabilities have proven their remarkable equestrian skills in various national and international competitions. This is the reason why equestrian therapy has been recognized as an important area in the medical field in many countries.

Equestrian or equine therapy is also an effective technique for many therapists to teach troubled youth on how they learn, react and follow instructions. For example in a  beginners' horse therapy, the students were asked to get the horse move outside of a circle without even touching it. Students tried to clap, yell and whistle but the horse didn't heed the signal. In the same manner, parents, friends and others who are part of a troubled youth's therapy would learn that yelling, clapping and forcing would not be the best way to make the person do something.

Find out more about equine therapy here: http://www.equestriantherapy.com/
What are the Benefits of Equine Therapy?
Studies have indicated that equine therapy has been successful in helping patients show marked improvements in the following areas:
Assertiveness
Emotional awareness
Empathy
Stress tolerance
Flexibility
Impulse control
Problem-solving skills
Self-actualization
Independence
Self-regard
Social responsibility
Interpersonal relationships
Many of the benefits of equine therapy are likely due to the nature of the animals with which the patient and equine therapist are interacting. Horses are typically non-judgmental, have no preconceived expectations or motives, and are highly effective at mirroring attitudes and behaviors of the humans with whom they are working.
While working with horses under the guidance and supervision of an equine therapist, equine therapy patients have a unique and effective opportunity to note their tendency to engage in self-defeating and otherwise negative thoughts and actions. These realizations provide excellent bases for discussion and processing both during and after the equine therapy experience.
http://www.crchealth.com/types-of-therapy/what-is-equine-therapy/
The Ohio State University Colleges of Social Work and Veterinary Medicine are working to pilot an equine Animal Assisted Therapy (AAT) intervention program for persons attending adult day services with early stages of Alzheimer's disease and related dementias.
Read the rest of this entry »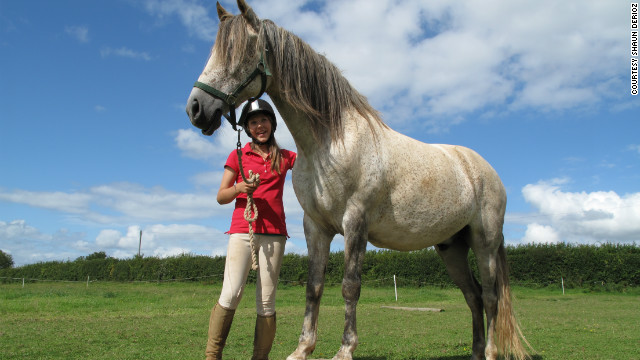 (CNN) — Beasts of burden, winners of wars and beloved as the sport of Kings — now horses are being used to cure the ills of modern life.
From the time ancient Egyptians worshiped feline deities, animals have been viewed as a source of strength and healing.
Renowned psychoanalyst Sigmund Freud believed dogs helped his patients relax during sessions, while the Soviets used dolphins to treat people with mental health disorders in the 1980s.
Click here to read the full article and watch related videos
"Early results are positive and indicate that this type of therapy does help," she said. "In a study of at-risk adolescents, we learned that the equine-assisted psychotherapy group demonstrated stronger positive changes in resilience scores compared to those in a typical psycho-educational, talk therapy group."
Read the rest of this entry »
Horse Therapy Helps Veterans Break Through PTSD WASHINGTON, April 5, 2012 – A Pentagon Channel documentary sheds light on how military veterans with post-traumatic stress disorder are finding help through the power of horse therapy.
Read the rest of this entry »
"Psychologists and counselors have discovered many effective treatment programs for troubled teens. The leading new treatment involves Equine Assisted Therapy – or the use of professionally trained horses as part of the counseling process." … Read more of this article at Horse Therapy and Troubled Teens
Seeing a counselor doesn't always mean sitting on a couch in a sterile doctor's office. Some are taking their sessions to local horse stables. Equine assisted psychotherapy utilizes activities with horses as a way to work through emotional issues. As WGLT's Daniel Hajek reports, it's therapy with a whole new perspective.
Listen to the report at http://wglt.org
According to Yalom (1995) "all individuals seeking assistance from a mental health professional have in common two paramount difficulties: (1) establishing and maintaining meaningful interpersonal relationships, and (2) maintain a sense of personal worth (self-esteem)"
* Build relationship skills
* Channel risk taking impulses
* Develop trust
* Gain confidence
* Gain effective coping skills
* Gain problem solving skills
* Gain self-awareness
* Gain self-esteem
* Give and receive needed affection
* Learn basic horsemanship skills
* Learn body language
* Learn boundaries
* Learn respect for self & others
* Learn self-control
* Overcome fears
* Promote a feeling of achievement
* Promote empowerment
* Promote healthy touch
* Reduce feelings of loneliness and isolation
* Team work
Children as well as adults sometimes have unhealthy views of themselves. Horses are often referred to as the "dolphins of the prairies" and can be used effectively in therapy as a tool to help build healthy relationships.
One of the main goals of this type of therapy is to promote learning healthy ways of developing and maintaining relationships. These newly learned relationship skills then are transferred over into healthy relationships with others.
Clinical evidence suggest that Equine assisted psychotherapy can help: depression, low self-esteem, learning disorders, anxiety, attention-deficit disorder, conduct disorder, relationship problems, body image disorders, brain injury, memory impairment, sensory deficits, eating disorders, autism, Tourette's syndrome and post traumatic stress syndrome along with many other disorders.
Equine specialized psychotherapy is an emerging field in which horses are used as a tool for emotional growth and learning. Equine assisted therapies are a collaborative effort between a therapist and the horse. This model can most easily be explained as an "hands on" approach to counseling. This means that the par. ticipants learn about themselves and others by participating in activities with the horses then they process feelings, behaviors, observations and feedback. Equine assisted psychotherapy has the added dynamic of utilizing horses each with different personalities, attitudes, and moods as unique as those of each individual involved. Because of this, equine assisted psychotherapy produces endless experiences and situations for discussion, analysis and learning. Equine facilitated therapies are effective in individual, family and group therapy.
Therapeutic riding programs offer unique and effective growth opportunities. ESP programs can help participant's gain new meaning, hope and happiness in their lives.
Sir Winston Churchill stated it well when he said, "there is something about the outside of a horse that is good for the inside of a man" (Clara, 2001).
Proponents of ESP programs also believe that there is something about the outside of a horse that is good for the inside of a man, woman and child. As hearts start to mend and learning becomes successful, people of all ages, genders, and economic backgrounds begin to rebuild their shattered lives. ESP at times can be fun, while building a sense of renewal, hope, and the connections that can heal the human spirit. Lives change for the better and good citizens emerge. The world can become a better place thanks to the healing and loving presence of a horse!
Horses mirror our own, sometimes-subconscious thoughts by reacting to body language, tone of voice and overall presence.
RS Surtees knew this truth. "Show me your horse and I will tell you what you are" (Clara, 2001). RS Surtees knew of the oneness that can be experienced between horse and rider when he said "there is no secret closer than what passes between a man and his horse (Clara, 2001).